HealthNews July 2015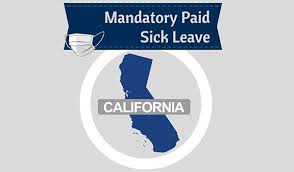 California New Mandatory Paid Sick Leave Law
Effective July 1, 2015, under the Healthy Workplaces, Healthy Families Act of 2014, all California employers must provide their California employees with at least 3 days (24 hours) of paid sick leave per year.
Unlike several other California leave laws, there is no exemption for small employers. The new law applies to employees (exempt and non­exempt) who work in California 30 days or more in a year. This includes temporary, part­time, and seasonal employees, and out­of­state employees who work in California 30 or more days in a calendar year. The only employees not included are: (1) union­represented employees covered by a valid collective bargaining agreement if the agreement expressly provides for paid sick leave, provides for final and binding arbitration of disputes concerning the application of paid sick day provisions, and meets other requirements; (2) employees in the construction industry covered by a valid collective bargaining agreement that meets certain requirements; (3) providers of in­home supportive services under California law; and (4) employees of an air carrier flight deck or cabin crew members who receive compensated time off equal to the amounts in the new statute.
The specific requirements of the new law are as follows:
Accrual requirements: Sick days must be accrued at the rate of not less than one hour per every 30 hours worked, beginning at the commencement of employment or July 1, 2015, whichever is later. This equates to approximately 1.3 hours per week, or 5.3 hours per month, for employees who work 40 hours a week (subject to a permissible accrual cap discussed below). Exempt employees are deemed to work 40 hours per workweek, unless the employee's normal workweek is less than 40 hours.
Use of sick leave: Employees are entitled to use accrued paid sick days beginning on the 90th day of employment. However, at its discretion, an employer may lend paid sick days to an employee in advance of accrual. Employers may limit the amount of sick leave used to 24 hours or 3 days per year. (The law permits employees to accrue more time than they could use in a year so that if the employee gets sick at the beginning of the year, the employee has some time available in his or her sick leave bank.) Employers may also set a minimum increment not to exceed two hours for use of paid sick leave. The employee must provide reasonable advance notification, orally or in writing, of the need to use sick leave, if foreseeable. If the need to use sick leave is not foreseeable, the employee must provide notice as soon as practicable. The employer cannot condition the use of sick leave on the employee finding someone to cover his/her work. Carry­ over and cap on accruals:
Unused, accrued sick days must carry over to the next year, up to a permissible accrual cap of 48 hours, or 6 days. However, if employees are given the total amount of sick leave that may be used per year­ 24 hours or 3 day s­at the beginning of each year, no accrual or carry ­over is required.
Rate of pay: Sick leave must be paid out at the employee's hourly wage. If the employee is paid by commission or piece rate, or otherwise has a variable hourly wage, or is a non­ exempt, salaried employee, then the rate of pay is calculated by dividing the employee's total wages (not including overtime premium pay) by the employee's total hours worked in the full pay periods in the prior 90 days of employment. Payment for sick leave must be made no later than the payday for the next regular payroll period after the sick leave was taken.
Purposes of sick leave: Sick leave may be used for the diagnosis, care, or treatment of an existing health condition of, or preventive care for, an employee or an employee's family member. The definition of "family member" is broad and includes, for instance, parents ­in ­law, grandparents, grandchildren, and siblings, among other persons. Sick leave may also be used for victims of domestic violence, sexual assault, or stalking. No pay­out for accrued sick leave upon termination: Unlike vacation time, employers are not required to provide compensation to an employee for accrued, unused paid sick days upon separation of employment. However, if an employee separates from an employer and is rehired within one year, previously unused paid sick days must be reinstated.
Employers who already have PTO policies:
An employer that already has a paid leave or paid time off ("PTO") policy is not required to provide additional paid sick leave, provided that the employer makes available an amount of leave that may be used for the same purposes and under the same conditions as the new law, and the policy either: (1) satisfies the accrual, carry­over, and use requirements of the new law; or (2) provides at least 24 hours or 3 days of paid sick leave, or equivalent paid leave or PTO, for employee use at the beginning of each year of employment or calendar year. Employers who already have a PTO policy still must comply with the posting, record­ keeping, and other requirements of the new law. Also, employers who combine vacation and sick leave into undifferentiated PTO must continue to pay out all of the PTO upon termination.

Notice and posting requirements: Employers must provide employees with a written notice that sets forth the amount of paid sick leave available (or PTO provided in lieu of sick leave) on either the employee's itemized wage statement, or in a separate writing provided on payday. Employers must also display in a conspicuous place a poster telling employees about their rights under the new law, and provide new employees with written notice of the substantive provisions of the new law at the time of hiring. Both the poster, and a template with the new hire information, will be drafted and made available by the Labor Commissioner.
Record­-keeping requirements: Employers must keep for at least three years records documenting the hours worked and paid sick days accrued and used by each employee, and make such records available for employee inspection, if requested.
No discrimination or retaliation: Employers may not deny an employee the right to use accrued sick days, discharge, threaten to discharge, demote, suspend, or in any manner discriminate against an employee for using or attempting to use accrued sick days.
Employers who do not currently provide their employees with sick leave must do so by July 1, 2015. Employers with existing PTO or sick leave policies should review those policies to ensure they are in compliance with the new law, including the notice, posting, and record ­keeping requirements. Failure to follow the new law will subject employers to significant penalties.
Please visit the State of California's Department of Industrial
Relations for more information on this newly effective law:
http://www.dir.ca.gov/dlse/Paid_Sick_Leave.htm
Supreme Court Rules in Favor of Same-­Sex Marriage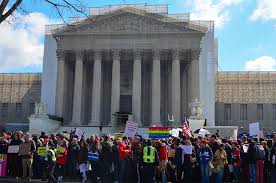 The U.S. Supreme Court's June 26 ruling in favor of same­-sex marriage means employers across the country need to review their policies as well as the effect the ruling has on various laws dealing with employment. The Court's 5­4 ruling in Obergefell v. Hodges struck down prohibitions on gay marriage in states covered by the U.S. 6th Circuit Court of Appeals ­ Kentucky, Michigan, Ohio, and Tennessee.
"Employers need to be aware of how this ruling will affect several employment laws that relate to marriage, particularly involving leave or benefits," Ryan Frazier, an attorney with Kirton McConkie in Salt Lake City, Utah said after the ruling was announced. Frazier said the most obvious impact will be with respect to the application of leave benefits under the Family and Medical Leave Act. The FMLA requires covered employers to provide up to 12 weeks of leave per year for employees dealing with their own serious health condition or that of a close family member, including a spouse. The law also requires employers to offer employees leave for a spouse's covered military service and for military caregiver leave. "This ruling should afford FMLA leave to an employee in a same­-sex marriage regardless of the state in which the marriage was performed or where the employee seeking leave resides," Frazier said.
Employers also need to keep in mind that the ruling means that laws in every state providing for spousal benefits must "extend to same­-sex marriage spouses on equal footing with the benefits required for opposite-­sex spouses," claimed Frazier. "Further, employers need to evaluate how this ruling will affect their own policies, including those set forth in employee handbooks, relating to spousal benefits and leave."
"One of the biggest areas ripe for change will be health and medical benefits. Currently, some employers offer health benefits to unmarried same-­sex couples while others don't," said Todd Solomon, a partner in the employee benefits practice group at McDermott Will & Emery. "Some employers may choose to drop coverage for unmarried same-­sex partners now that same­-sex marriage is a national right," claimed Solomon. While employers can clearly continue to offer domestic partner benefits, it is worth noting that in the wake of this ruling several large companies have already chosen to eliminate these benefits in states where same-­sex marriage was legal though most have provided a grace period time frame for the couples to either marry or find other options.
Finally, Kylie Crawford TenBrook, who serves as corporate counsel for Best Western International, Inc. said, "employers that haven't already done so need to look at their handbooks and how they define "spouse." They also need to make sure their health plans are in line with the law and that the accounting department knows the impact on employees in same-­sex marriages who file joint tax returns".
Employee Rankings: May Reveal More than Expected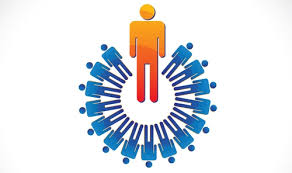 A New York Times article reports that while data has made it possible to measure employee performance in every way imaginable, recent studies warn to be careful about how you use that data. The studies were done at both the Wharton School at the University of Pennsylvania and the New York University.
Many employers assume that distributing a ranking of their employees' performance is an effective tool by which to motivate those on the lower end of the spectrum. Iwan Barankay, an associate professor at the Wharton School at the University of Pennsylvania sought to test this theory. Barankay's study, spanning three years in North America, included 1,500 sales workers. In the study, one group of sales workers was shown how their sales ranked compared with their fellow employees while the other group was not shown a comparison, only their individual results. The study found that the sales reps who did not know where they ranked among their colleagues achieved higher subsequent sales than those who were aware of their comparative ranking.
Most people optimistically assume that they are above average in their performance, but the study found that most people, when measured against one another, will inevitably rank as average or below average. At this point it is up to the employee to make a change for the better now that they have seen their true rankings.
In a separate study involving the ranking of employees, a group of researchers analyzed the fuel use and driving behavior of truck drivers. A portion of the truck drivers had undergone a program know as "lean management," to build a more team ­oriented environment. A separate set of drivers had not participated in the program. Similar to the study of the sales workers, some drivers were shown only their individual performance while others were shown how they ranked alongside their fellow truck drivers. Even though management stated that the data was only intended to make the company safer and more efficient and would in no way be used to evaluate individual performance, some drivers in the team ­based environment still viewed the ranked data with suspicion and resentment. The results can also be on a person to person basis where some employees are motivated to perform better to increase their rank.
In team based environments, employers might be better served informing each employee of his or her performance individually rather than as part of a group ranking. Barankay did state, however, that if the company culture is self­ focused rather than team focused, publicizing ranking may be effective.

ACA Contraceptive Mandate Final Regulations
On July 10th, 2015, the U.S. Department of Health and Human Services (HHS), the U.S. Department of Labor (DOL), and the U.S. Department of the Treasury issued final regulation on coverage of certain preventive services under the Patient Protection and Affordable Care Act. Specifically, the regulation focus on the ACA's controversial "contraceptive mandate."
Contraceptive Mandate
Under the ACA, many health insurance plans must cover certain preventive services for women with no cost ­sharing (e.g. coinsurance, copays, and deductibles). These preventive services include contraceptive methods as well as counseling; specifically, "all Food and Drug Administration approved contraceptive methods, sterilization procedures, and patient education and counseling for all women with reproductive capacity."
There are a couple of exceptions to the mandate. The requirement to cover preventive services does not apply to grandfathered plans as well as certain religious employers. HHS has also provided an accommodation to nonprofit organizations with religious objections to providing contraceptive coverage.
New Regulations
The new regulations set out an additional way for nonprofit religious organizations who are eligible for an accommodation to give notice of their religious objections to providing the contraceptive services coverage. Under the regulations, eligible organizations could notify HHS in writing of their religious objections to providing such coverage (as opposed to filling out the DOL form to provide to their insurer or third­party administrator). HHS and the DOL will then notify insurers and third ­party administrators so employees who are enrolled in the plans of such organizations will receive separate coverage for contraceptive services, with no additional cost to employees and no involvement by the employers.
The new regulations extend the accommodation to nonprofit religious organizations as well as closely held for­ profit entities. The rules also clarify that the definition of "closely held for ­profit entity" means an entity that is not publicly traded and also has:
An ownership structure under which more than 50% of the organization's ownership interest is owned by five or fewer individuals or:
A substantially similar ownership structure
The regulations provide that all ownership interests held by members of a family are treated as being owned by one individual. According to the department's news release, they "believe that this definition includes all of the for­profit companies that have challenged the contraceptive­coverage requirement on religious grounds."
Summer Wellness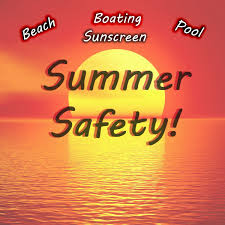 Fun in the sun and enjoying the water is a basic part of great summer memories. Make sure that your summer is the best it can be by following a few important safety tips.
Keeping the rays away
Did you know that the skin cancer is largely preventable? It is estimated that one in five Americans will have skin cancer over the course of their lifetimes. Being sun­ savvy may help keep this often­preventable cancer at bay.
 Put lotion in motion. Choose a broad­spectrum sunscreen that protects against ultraviolet A (UVA) and ultraviolet B (UVB) rays. It should be SPF 15 or higher. Be sure to use waterproof sunscreen while swimming and use it on cloudy days since the UV rays penetrate through clouds.
Apply the sunscreen correctly. Applying sunscreen 30 minutes before going outside, to all exposed skin including ears and reapply every 2 hours and after swimming or sweating.
Know your UV numbers. Check the UV index reported by the U.S Weather Service. The UV index ranges from 1 (low) to 11 (high). Be extra careful outside when the UV index is high.
Wear sunglasses. Wraparound lenses that block UV rays work the best. Do not look directly into the sun.
Keep an eye on your skin. If you notice any new or changing spots on your skin, see your doctor promptly. The earlier skin cancer is detected, the more likely it is to respond to treatment.
Pool Safety
Every day, about 10 people die in the United States from drowning. Of these, two are children age 14 or younger. Follow the simple steps below to ensure a fun and safe time at the pool.
Empty and turn over wading pools immediately after use.
Enclose your pool or spa with four­sided isolation fencing at least five feet high
with self­closing and self­latching gates.
 Completely remove pool covers when the pool is in use: always remove standing
water from the cover.
 Learn CPR and keep rescue equipment, a phone and emergency numbers
beside your pool.
Learn to swim. Teach your children to swim, but never rely solely on swimming lessons to protect them from drowning.
Teach your children never to run push or jump on others around water.
Never dive into a pool except at the deepest end and when going down a slide,
always go feet first to avoid head and neck injuries.
Preventing Heat-­Related Illness
When the heat gets extreme, outdoor fun can turn harmful if proper precautions are not taken. Most heat­related health problems are preventable. A few safety steps may help you avoid a problem When it's extremely hot outdoors, you should keep these important tactics in mind.
Stay cool. Stay in air­conditioned areas as much as you can. Fans alone may not offer enough relief. Avoid being out in the direct sun.
 Stay hydrated. You may need to drink more water than you're used to. Don't wait until you're thirsty to drink. Experts recommend drinking two to four cups of water every hour when working outdoors or being active outside.
 Stay informed about the weather. Outdoor fun requires planning, so stay on top of expected weather conditions and take the right protective measures to deal with any extreme heat.
Wear clothing that is loose, lightweight, and light ­colored.
Take cool showers or baths.
Avoid using the oven or stove to cook foods, as this can make both you and your 

home hotter.
People who are most vulnerable can include seniors 65 and older, infants and children, those with certain chronic health conditions, athletes and outdoor workers. Seek medical attention immediately if you have, or someone you know has, symptoms of heat­related illness. Signs can include muscle cramps, headaches, nausea, or vomiting. Other signs could be heavy sweating, feeling weak, skin that is cold, pale, or clammy, or either a fast or weak pulse. Take care to keep yourself or anyone you know out of harm's way when temperatures rise to extreme levels. Enjoy your summer and stay safe!
With great respect,
Douglas­McCarty Insurance Services
We are dedicated to the highest standards of business ethics with a commitment to excellence in the health insurance industry ­ Douglas­McCarty Insurance Services